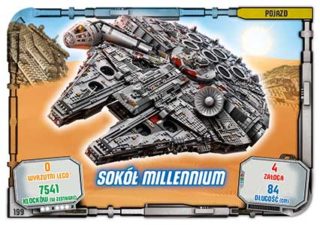 22.08.2018
The world premiere of LEGO®Star Wars trading cards collection
The world of Star Wars has thousands of dedicated fans. Now, for the young audience, available for sale is an amazing collection of cards titled: "LEGO® Star Wars Trading Card Collection I".
The collection includes 252 cards with the heroes and villains of the Star Wars universe. Additionally, in multipack sets, starter pack and in popular children's titles, you can find up to 10 different, unique limited cards.
LEGO® Star Wars TCC collection cards are also a presentation of captivating vehicles from the world of Star Wars composed of LEGO® bricks (individual cards in addition to statistics show the number of blocks used to build the presented vehicle), unique iconic action scenes as well as planets and astral objects coming from from the "distant galaxy". The reverse of these last cards is also a  jigsaw's puzzle.
Cards can be stored in a specially prepared album, along with which there is also available a list of all collection cards and cosmic posters.